Accidents can happen anytime, anywhere – whether a concern is merely a small scratch or as serious as a broken bone – first aid is needed to prevent further impairment. For this reason, enrolling in a first aid training class for CPR/AED training can definitely equip a person with ample knowledge in case of an accident.
However, people who have CPR certification or an online CPR certification are not the only ones who should have certain first aid tools on hand. To be prepared for any sudden medical concerns, here are some helpful items that should always be included in your First Aid Kit.
Tweezers
These tiny helpers are not just for cosmetic procedures like plucking the brows, hence, they can also be a handy medical tool. Even the most basic of kits must contain a precise pair of tweezers. You can use this to remove debris such as grass, dirt, or thorns to a person to ultimately relieve the pain and discomfort that he/she feels.
Scissors
If you have a CPR certification, then you would know that scissors are truly essential, not just for an art kit, but also for first aid situations. Initially, scissors are used for opening containers and packages of other supplies. Plus, it also doubles in customizing the size of gauze pads, medical tapes, and even bandages.
Pain Relievers
Similar to tweezers, pain relievers must always be included in first aid kits, both aspirin-based and non-aspirin-based. If you have children, then make sure that you always bring several medicines that are specified for children. Pain relievers are useful when nursing minor pain, scratches, and even deep wounds.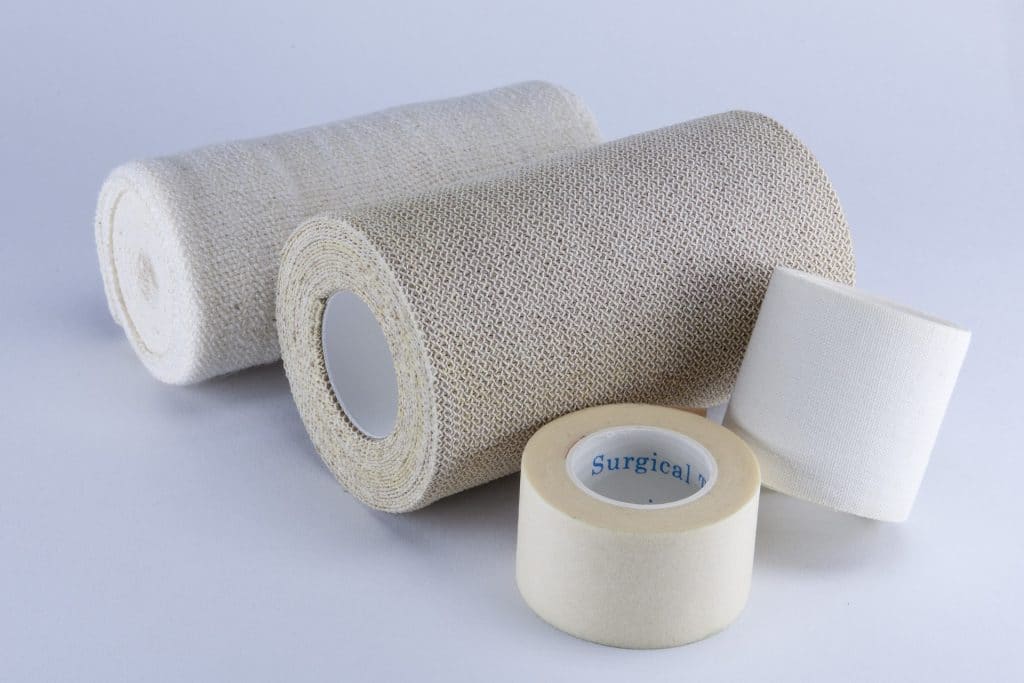 Gauze and Medical Tape
If you took CPR certification online, then surely you would know that these two apparatuses go hand in hand. These tools are used to cover open wounds to prevent further infection, which is very common for cuts.
Gauze pads are versatile enough that they can be used for bandaging a wound or absorbing blood. It has various sizes, that's why it's better to have at least two of each size. In order to secure the gauze pad, medical tape is needed. Unlike other tapes in the market, medical tape does not leave sticky residue on the skin.
Antiseptic
In case minor cuts or scrapes occurs, antiseptics are an effective move for disinfecting. Popular options for antiseptic are either alcohol or hydrogen peroxide.
Nowadays, antiseptics are packaged in various ways such as wipes and sprays. Wipes are more often utilized by adults who can tolerate the stinging sensation of the antiseptics. For children, who often have a low tolerance for pain, antiseptic sprays are a popular choice.
Antibiotic Ointment
Even if you already have an antiseptic inside your kit, it's still wise to leave some space for an antibiotic ointment. Not only will antibiotic ointments prevent infection of clean wounds, but they can also speed up the healing process even of infected ones.
Hot and Cold Pack
The days of using a hot and cold compress bag as the only option are long gone. Using a universal hot or cold bag is convenient in a house setting. As for those who are on the field and on the go, it can be time-consuming and inconvenient to search for a source of ice or hot water. Those who had CPR Certification are surely familiar with this apparatus. It's a good thing that there are now handy hot compresses and cold compresses that will only require a bit of squeezing to activate. Companies are even starting to manufacture compresses decorated with children's cartoons.
Moreover, the cold compress is useful in the event of inflammation, swelling, or a pulled muscle. On the other hand, heat compress is needed for soothing chronic pain and stress.
Bandages
There are several types of bandages, but roller bandages and triangular bandages are compact enough even for a basic kit. However, what's the difference between the two?
Roller Bandages
This type of bandage is often made from a breathable and lightweight cotton material which is ideal for holding together dressings for wounds. By supporting the dressing with a bandage, further bleeding will be controlled.
Triangular Bandages
Triangular bandages are very versatile. Initially designed to construct slings to support injured soft tissues and broken bones, it can also be utilized as a backup tourniquet. In the absence of a roller bandage, a triangular bandage is lightweight enough to provide support without excessive pressure.
Key Takeaway
These tools can definitely aid in performing first aid. However, enrolling in a class – whether it's CPR certification courses or at a training center – is still a better way of equipping oneself for any medical situation. Join the American Health Care Academy today!