As a dental professional, you are already aware of how crucial it is to be prepared for any emergency. American HealthCare Academy offers on-site and online BLS for healthcare poviders including dentists. Your dental team will be provided with the knowledge and abilities essential to successfully handle a dental medical emergency.
It is a requirement by the dental boards that all dental professionals, such as dentists, hygienists, and assistants must maintain current BLS (Basic Life Support) CPR certifications. They must also renew it every two years. BLS certification offered by American HealthCare Academy complies with the guidelines and regulations for BLS CPR training made by the ADA, AGD, and state dental licensure boards. This also covers State CE Requirements for Dentists.
We provide comprehensive BLS CPR instruction in a friendly and educational environment. Our instructors will provide you with more than just the facts. They will also work to assure you that you can manage any situation. Our BLS CPR course includes CPR for infants, children, and adults. Additionally, you will also learn how to treat the obstruction of the airway. Every program includes thorough teaching on how to use an AED properly.
Following is the list of dental professionals who need BLS certification:
General Dentist
Dental Assistant
Dental Hygienist
Oral Surgeon
Endodontist
Orthodontist
Oral Pathologist
Sterilization Assistant
Periodontist
Prosthodontist
Pedodontics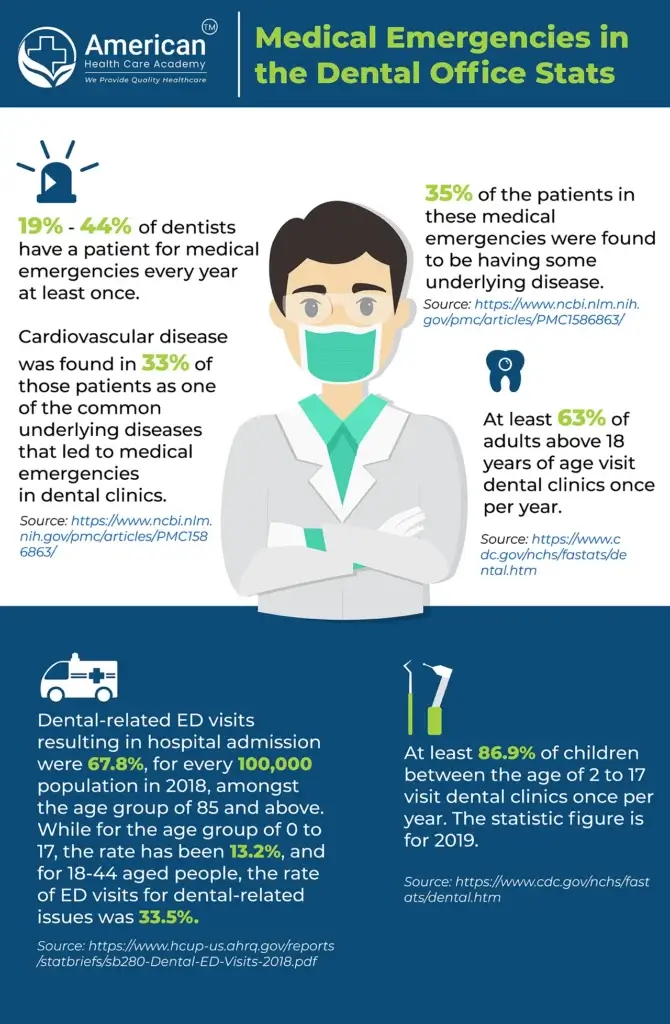 10 medical emergencies that can happen in a dental clinic
In the case of a dental clinic, each emergency must be approached by the clinician using a strategy. In emergency management, a straightforward strategy should be prioritized with a final objective in mind. The main objective in any emergency is to get enough oxygen-rich blood flowing to the heart and brain.
1) Airway obstruction
2) Acute coronary syndrome
3) Allergic reaction
4) Bronchospasm
5) Cardiac arrest
6) Convulsions
7) Hyperventilation
8) Hypoglycemia
9) Myocardial infarction
10) Syncope
What are the risk factors involved in dealing with dental patients?
A medical problem requiring quick attention is referred to as an emergency. Dental clinics do experience emergencies. Every dentist ought to be equipped with fundamental BLS and CPR skills. It is necessary to identify, evaluate, and treat a potentially fatal situation until the patient can be taken to a hospital. Understanding the pathophysiologic processes and how to correct them is essential for effective patient care. Remember that even in hospitals with the best management, some emergencies result in disaster. Every day, people suffer from heart attacks; one of them might have been in your office now. To provide the patient with the greatest chance of healing, you must be aware of what to do.
Most oral diseases and ailments have modifiable risk factors with the four most common non-communicable diseases like:
cancer
cardiovascular disease
chronic respiratory disease
diabetes
It includes using:
drinking alcohol
tobacco products
eating a high sugar-free diet
Additionally, it has been discovered that diabetes and periodontal disease development and progression are mutually related. There is also a direct connection between excessive sugar consumption and dental cavities, diabetes, and obesity.
How does BLS CPR Training help dentists keep their patients safe?
Dentists and dental specialists must maintain current CPR and BLS certifications. Every dental practice must have an AED (AED). Every dental clinic must meet CPR certification requirements for dentists.
Dental office workers who have had CPR and BLS training can identify the indications of an allergic response. They can administer emergency care until paramedics arrive. The dentist's office personnel can assist in keeping the patient secure and comfortable as they recover in the event of a seizure or fainting episode.
Although it is not necessary for all members of the dental office staff, such as the front desk receptionist, to be certified in CPR and BLS, it is highly advised. A CPR BLS education equips dental office teams with the knowledge and assurance necessary to render life-saving care in an emergency.
So, for how long does CPR certification last, along with BLS? The BLS CPR certification is valid for 2 years. It can be renewed when you certification is near expiry or has expired.
Conclusion
Having CPR and BLS certifications is essential for giving patients high-quality treatment. Uncertified dental office staff members can enroll in an in-person CPR and BLS course or a blended learning program with American HealthCare Academy. It combines online and in-person instruction. American HealthCare Academy offers on-site CPR and BLS training to the staff members of dental clinics. Register now!