There's a famous saying – "put your money where your mouth is." Using your dollars for good feels great, isn't it? Especially when you can learn and practice a skill for a lifetime and give back to the community too. This is the thought behind American HealthCare Academy's latest donation campaign. We are on a mission to make our community safer but also provide means to those who are in need.
We believe that as an organization offering courses in life-saving techniques like Cardiopulmonary Resuscitation (CPR) and First Aid, we are obligated to help society benefit in ways that transcend the primary business objective of maximizing profit. With this Corporate Social Responsibility (CSR) initiative, we have pledged to donate $1 to a national NGO for every online CPR course you purchase from us.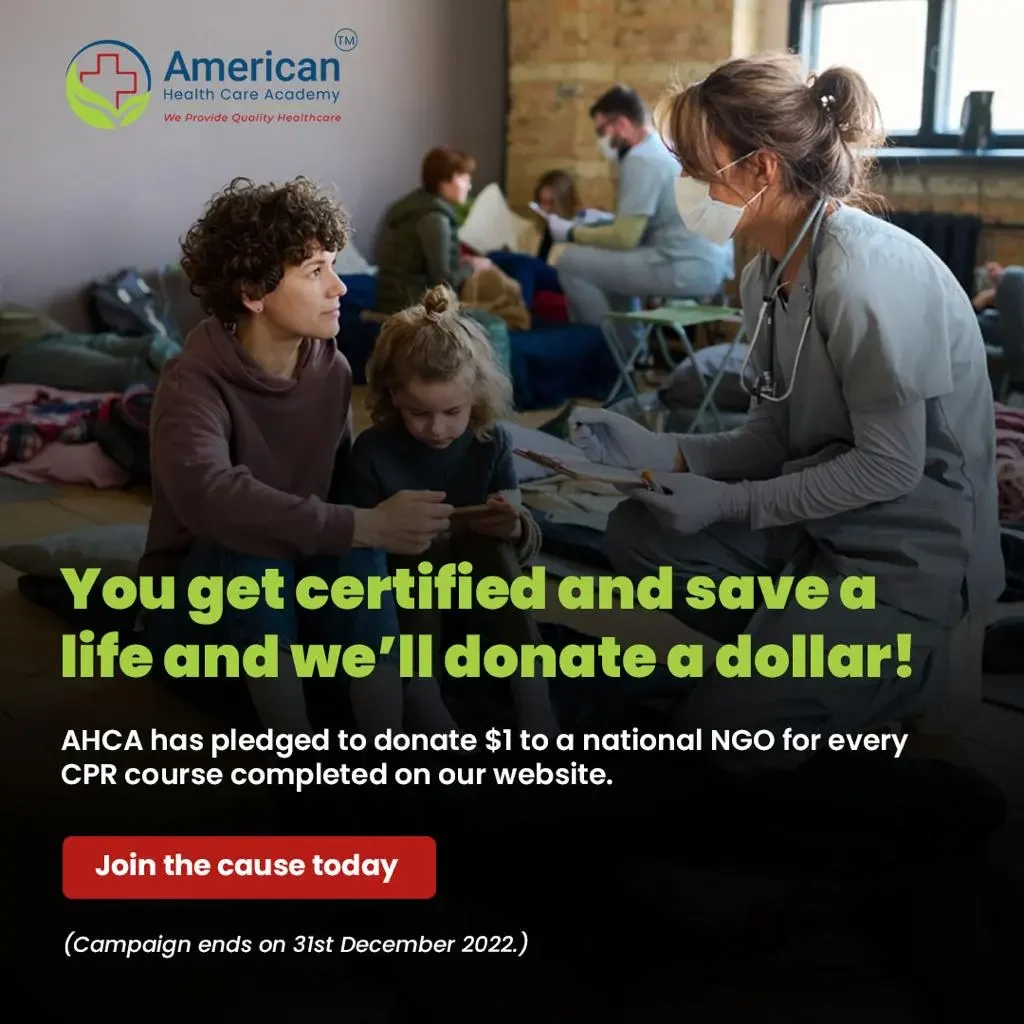 We wish to give back to society with your help by living up to our brand values and ethos
Continuing our business's commitment to act responsibly, this is our contribution towards improving the quality of life of the local community and society at large. Our CSR campaign will be running through the whole month of December.
Our main purpose behind this initiative is to combine all available opportunities to achieve comprehensive community development. Every enrollment will help us provide financial assistance to underprivileged members of the society. December is a month of festivities in the United States. It is a joyful time of giving and sharing. We seek to add goodwill to such an important occasion by sharing joy amongst people who need care and support the most.
We want to encourage people to learn CPR
Anybody can learn our online courses – anytime, anywhere. Our courses are nationally accredited and accepted. Our online certification courses help people in learning critical life-saving skills. Life is unpredictable and medical emergencies can occur at any time. When you choose our CPR training classes and other courses, you know how to save lives in emergencies. All our life-saving courses are valid for two years. The Bloodborne Pathogens certification course is valid for one year.
We also offer group or corporate discounts on online CPR, First Aid, HIPAA, BLS, and other basic and advanced life-saving courses. To qualify for these discounts, the interested group must have five or more members. Group discounts and packages are a fun way to learn CPR and other fundamental life-saving courses together. The course modules are online and interactive. The group can use the same ID to log in and get certificates for each course they enroll in. Students can download their certificates after finishing the course and passing the test with at least 75%. Good news is that you can take the test as many times as you want.
Sign up for CPR and other life-saving courses on our website and do your bit for the community. Contact our Customer Success Team TODAY at 1-888-277-7865. If you want to know more about our courses, you can visit the Course Demo page. Enrolling in our online CPR certification course in December is a wonderful start if you want to become a Good Samaritan. Students who take this CPR course will gain a new talent for saving lives. You will feel gratified to be able to contribute to society.