An accredited online CPR course is a must for anyone, since it helps one to be more confident in taking stock of situations where one may have difficulty breathing or maybe breathing in a gasping manner. An online CPR certification is a course that can be opted by anyone who wishes to get to know how to resuscitate a person who has a cardiac arrest.
There are about 32 percent of deaths registered globally due to cardiovascular problems out of which 85 per cent may be due to stroke and heart attacks. This is why the importance of such a course is being harped on, by renowned bodies such as the AHA, which is the American Heart Association.
They essentially want to build a community that is more self-sufficient and can take care of a situation while the EMT is on its way. According to data, about 200,000 people can be saved per annum and 500 per day if the CPR processes are being administered with efficiency.
These numbers here are rightfully too staggering to ignore. CPR can mean the difference between death and life for many. If one administers it within the first 4 minutes of myocardial infarction, brain damage may be ruled out. There are many cases where the victims have escaped serious damage due to CPR.
Who needs Online CPR Certification?
It is important to perform cardiopulmonary resuscitation or CPR correctly without injuring the victim. As per AHA, every individual should have this certification because it is all about building a community that can handle emergencies rather than just be passive or helpless bystanders. You can also opt for group online CPR training, to save time and help each other be more prepared, since statistics have stated that approximately 300,000 U.S citizens are dying of heart attacks per year.
One can also be a layman and perform CPR. If one has to stick to the facts only, there are many individuals who are in professions where such courses are a mandate. For example, in the case of the FDNY, who are firefighters. Social workers also have to go for this course along with many others such as law enforcement officers, lifeguards, doctors, athletic trainers, coaches, electricians, construction employees and the like.
You may also want to opt for a CPR course so that it adds value to your resume. It is also about the promotion of the Good Samaritan mindset here, which as mentioned is about doing the best we can to save a life rather than being just an eye-witness.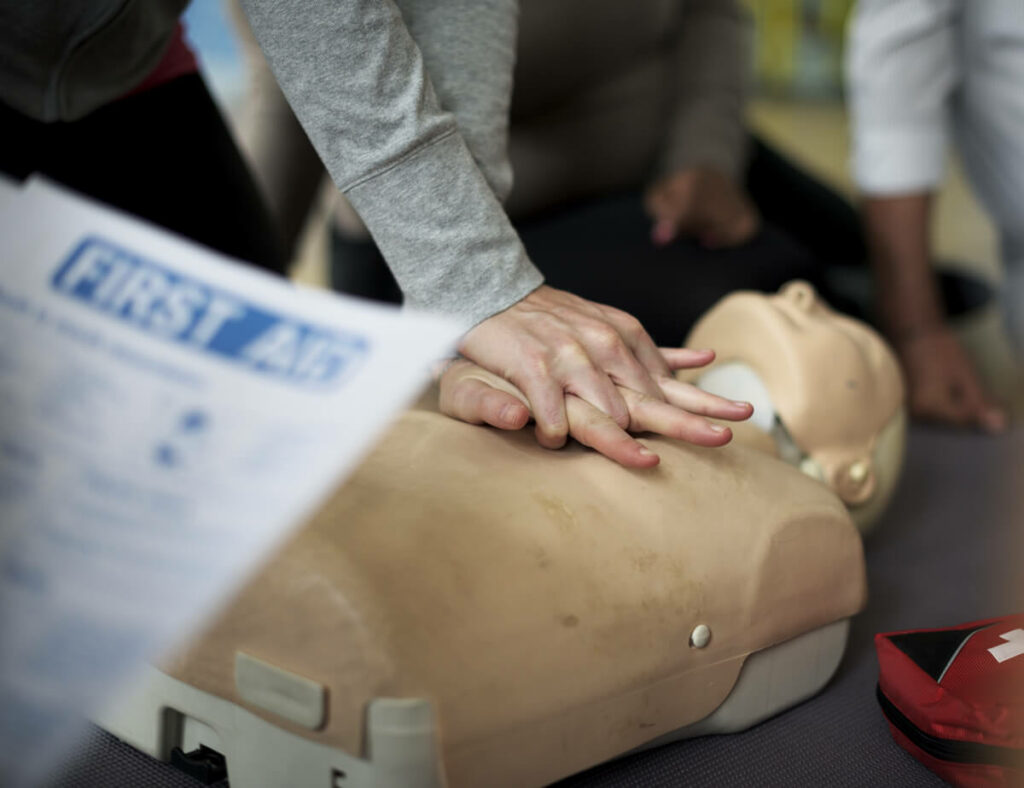 Is American HealthCare Academy's Online CPR Certification Accredited?
AHCA strictly and ritualistically follows OSHA guidelines for all of their courses administered. The courses are carefully curated and are also nationally accredited. They are being updated routinely and are also monitored based on national changes of standards and the latest research on the medical scene. The instructors are trained by OSHA practitioners who have received licences from AHA as well.
Another pertinent information would be that AHCA is now rated 4.8 out of 5 stars which makes it a credible platform. The CPR course materials that are provided by AHCA have found their recognition across America.
How long does Online CPR certification take?
If one wants to get CPR certified online, it only takes a few hours. One can get instant card access as well. You don't have to complete the course in just one sitting, you can learn at your own pace. Feel free to log out and log back into the course at your will. Enjoy unlimited access to the course material for 60 DAYS from the date of purchase (a small fee may be applicable to unlock a course quiz after these 60 days; refer to Terms of Service).
How much does the Online CPR Certification cost?
The cost of CPR certification & training may vary from one company to another, for example, in the case of AHCA the basic cardiopulmonary resuscitation (CPR) and automated external defibrillators (AED) Certification costs around $14.95. Offers are frequently accessible, and you can explore them by visiting our main website. The aforementioned price is an offer price and is for a limited period, so hurry and grab those deals. The CPR & First Aid Combo costs $36.95 which is a steal price and the offer is for a limited time only. High-quality CPR training is no longer out of reach. Earn yours now!
Conclusion-Why Online CPR Certification is indispensable to anyone
Online CPR course offerings are for the ones who believe in the Good Samaritan way of life. These are for people who want to be life savers inside and out of the hospital buildings, as professionals and laymen who is ready to save lives. Such courses can bring down the number of preventable deaths worldwide and not just in America, so enroll now! AHCA is offering the best online CPR certifications money can buy!